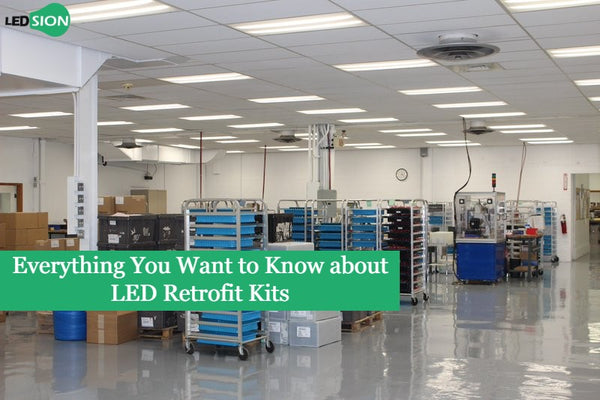 Everything You Want to Know about LED Retrofit Kits
Because LED lights use only a part of the energy consumed by the traditional filament & fluorescent bulbs, LED retrofit kits are an intelligent way to cut total energy costs to your facility.
By using it, your business can replace a conventional light bulb with an LED equivalent, without restoring the existing lighting fixture or lighting installation.
If you do not yet know the difference between an LED lamp, light, bulb, and fixture, not to worry, LEDSION is here to help you learn everything you want to know when choosing the right LED retrofit lighting solution.
Or, if you know you want a custom & comprehensive lighting solution for your lighting upgrade, consider LEDSION, an end-to-end lighting solution designed exclusively to serve businesses interested in upgrading their lighting.
What is a LED Retrofit Kit?
Not all LED lighting fixtures are created equally.
In large lighting installations, like industrial lighting applications found in offices, one lighting fixture type is often used frequently in a vast grid.
In commercial offices, lighting fixtures are often created to fit in drop ceiling layouts. These fixtures, often called "troffers" because they look like a troff with a light in the middle, are the most common.
Like all conventional lighting, troffer fixtures have dimensions that allow for conventional bulbs to fit, heat to dissipate, drivers & wiring to sit, and anchor points for attaching or placing the installation in its desired location.
Because LED lighting is thinner, lighter, integrated, and puts out less heat than a conventional fixture—like our troffer— it can need a kit to refit the older installation correctly.
An LED retrofit kit is often little more than an LED light with an integrated connection allowing the new light to sit in the old fixture comfortably.
New Lighting Technology Makes a Big Difference
Modern lighting technology has made lighting small, more lightweight, and more useful than ever before. Using an LED lighting retrofit kit enables you to upgrade to the advantages of LED lighting without incurring the costs of repairing all your lighting fixtures. And, because the upgrade is as pure & changing a bulb, it cuts down on expert labor expenses.
However, that's not all. LED lighting offers superior CRI. That means choosing to upgrade for energy performance also gets you a visibility upgrade!
Types of LED Light Fixtures
LED lighting fixtures incorporate both the lamp and the hardware casing in which the light goes. LED lighting fixtures are typically formed of the following three components:
The bulb 

The casing 

And the drive
Unlike conventional lighting fixtures, LED lighting fixtures are often "integrated," meaning they are all one piece, with the light, the installation, and the driver combined. That is possible because of the small size of light-emitting diodes, lightweight design, and vastly reduced heat.
However, integrated also means you cannot change the lamp without replacing the entire LED fixture. That isn't a problem as LED lighting can last for decades!
When replacing a traditional light fixture with an LED retrofit kit, you may need to restore some or all of the components included in the installation.
If you want an unconstrained selection of LED options, you may have to commit to replacing the fixture. While there many retrofit kit solutions available, not every existing installation can be retrofit.
Styles of lighting fixtures include but are not limited to:
Troffer lighting

High Bay Lighting

Low Bay lighting

Sky bay lighting

Linear lighting

Canopy Lighting

Wall Pack lighting

LED UFO

Panel Lighting

And many more
ABOUT LEDSION
LEDSION is Shenzhen china based led lights manufacturer,we focus on commercial led lights and outdoor lights research production and sales.